The Start Line (in SpinSheet June '22 & Severna Park Voice May '22)
MaryRMarta

- Wed, 2022-06-22 15:54
The Start Line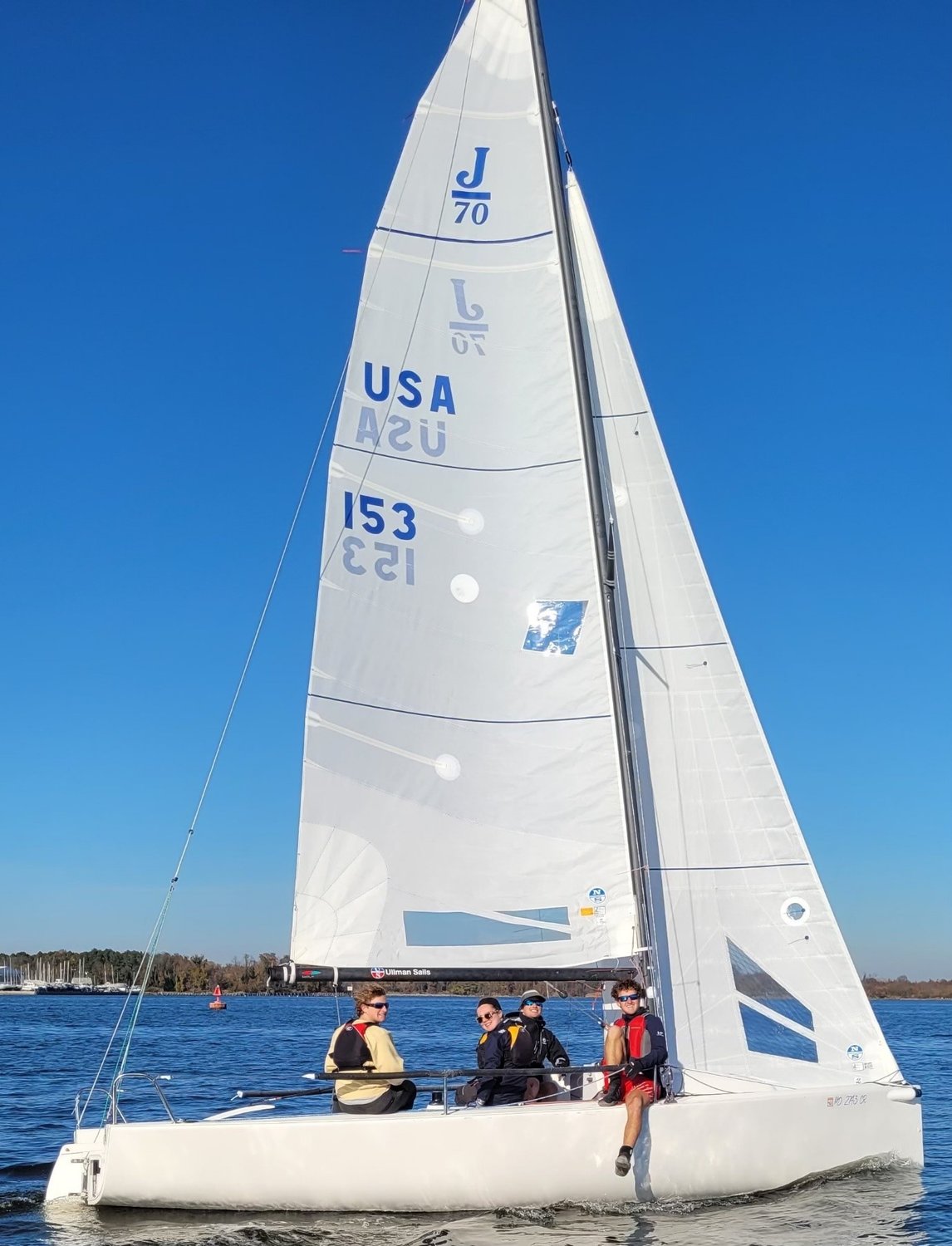 Will Harding of The Gilded Lady is pictured with Broadneck sailing team members Jonathan Weed, Anabel Chambers and Aden Keithley on a J70 at nationals in Florida.
Posted Saturday, May 21, 2022 8:05 pm
By Mary Marta l Round Bay Sailing Association
With May underway, RBSA skippers have started with the first series of six Wednesday night races. As is typical for the Severn, conditions have been variable, with race one yielding light winds and race two yielding heavy air. Turnout is usually light during the late April, early May races, but most RBSA sailors are either already racing or just about to enter the fray. Many RBSA skippers are seasoned sailors, but some are newer to the racing scene.
One new skipper, Colin Harding, is new to RBSA and new to racing. Harding has a Merit 22 named The Gilded Lady with a new sail number and boat rating. Wife Molly will drive, with Colin, son Ben, daughter Savannah and son Will as crew. Colin and Molly will rely heavily on Will given his experience with both dinghy and keelboat racing while at Broadneck High School. Will is a captain of the sailing team at Broadneck. While primarily dinghy sailors, Will and the Broadneck team placed fifth at the high school keelboat nationals in St. Petersburg, Florida, last December.
Colin was attracted to the RBSA group because he and family have observed the Wednesday races while fishing or boating on the Severn. He notes that the races, while competitive, are not overly contentious. He expects that while sailing The Gilded Lady, he and family will be able to enjoy racing while gaining valuable experience on keel boats for Will, who wants to do offshore sailing.
RBSA takes pride in encouraging new racers to participate, while also allowing more experienced competitive racers to push their boats and crew. If you have an interest at whatever level, we encourage you to come over to Round Bay on a Wednesday eve. See us on the water or at www.roundbaysailing.com.