RBSA Racers Compete In A2B
MaryRMarta

- Mon, 2022-08-22 13:23
RBSA Racers Compete In A2B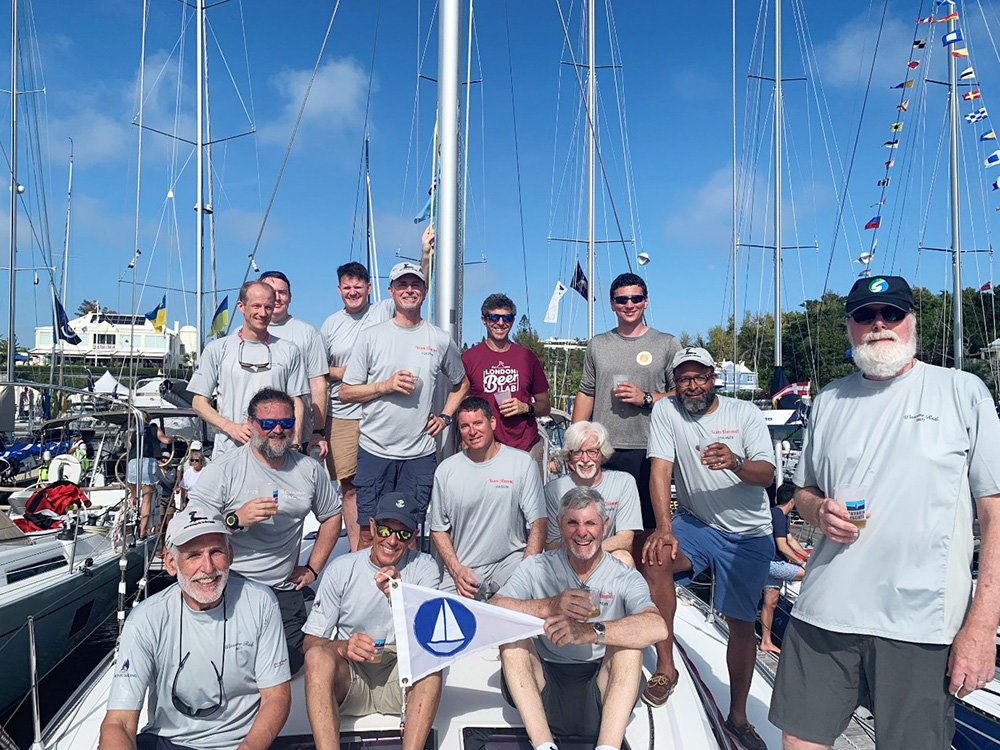 RBSA sailors proudly displayed the RBSA burgee in Bermuda.
PHOTO PROVIDED
Posted Friday, July 1, 2022 1:34 pm
By Mary Marta
This year's Annapolis to Bermuda Ocean Race (A2B) proved exceptionally challenging. The 753-mile race is one of the longest ocean races on the U.S. East Coast. The course combines an inshore leg down the Chesapeake Bay, and an offshore leg across the gulf stream to Bermuda.
Alex, the first named tropical storm of the season, delayed the race start from June 3 to June 4 and promised a rough ride for the competitors. Indeed, many racers, when asked to describe the ride, said "bumpy," but that description is hardly adequate. In fact, of 29 entrants, only 20 finished the race, with nine retiring before the finish. Therefore, merely finishing the A2B was quite an accomplishment.
Being no stranger to ocean racing, Dave Malfroy, a regular with Round Bay Sailing Association's (RBSA) boat Himmel, sailed with Bare Bones, a Sunfast 3600, to Bermuda. Bare Bones sailed with seven crew members, scheduled as two on watch and four off, with one full-time navigator. Malfroy served as watch captain and bowman and reported that crew members were chasing currents to get an extra push to the finish. Bare Bones felt the tail end of Alex, and according to Malfroy, after four times across the gulf stream, this was the roughest. Himmel, a Dehler 39 skippered by Don Snelgrove, RBSA commodore, also finished A2B. Snelgrove agreed the course was challenging.
Winsome Ride is a Bavaria Cruiser 46 and regular RBSA racer skippered by Mark Lister, who agreed that the ride was uncomfortable. He said that the wind and waves were "better than we expected" and that, luckily, there was no calm after the storm. According to navigator and weatherman Kevin Lister, the worst-case scenario forecast by the race committee was luckily more than the competitors encountered, so instead of 15- to 18-foot seas, the waves were 10 feet. However, Winsome Ride and the other boats were beating into the wind and waves the entire race.
Despite the harsh conditions, Winsome Ride fared well in its class, CRCA cruiser. It took home four awards: CRCA first place (overall within the two CRCA classes), CRCA Cruiser first place, Fastest Corrected Time in the Chesapeake Bay CRCA division and Fastest Ocean Leg in the CRCA division. Prizes were awarded by the governor of Bermuda, Rena Lalgie; the U.S. consul general to Bermuda, Karen Grissette; and the Royal Hamilton Amateur Dinghy Club (RHADC)'s commodore, John Nicholls.
Overall, many RBSA sailors entered A2B, and all the RBSA sailors finished. Congratulations are in order for the finishers!
https://www.severnaparkvoice.com/stories/rbsa-racers-compete-in-a2b-anna...?